3D
The program imitates the optical way of 3D photo creation: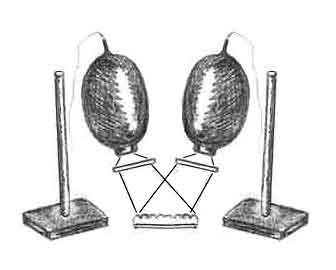 Optical scheme of 3D photo creation
The program takes into account the optical characteristics of lens. PhotoProjector can change the focus of image and stereo image parallax and depth (increasing the value Depth).
In the drop-down list choose 3D:

Click Settings... to open dialogue: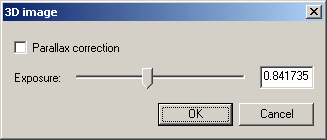 Exposure - changes the brightness of picture.
The program allows to create panoramic lenticular images. For that check option Parallax correction. More details about parallax correction...
If number of views is 2-4, you can increase the value Depth, stereo image parallax and depth are changed, but the picture is defocused slightly. Increasing the Depth is good for landscape images.
About preparing of 3D viewpoints
For a good 3D image you must align the viewpoints one against another: align horizontally, align vertically and eliminate inclines. Choosing stereo window position is very important too.
Attention! The first file must be the image for the left eye.
Click Create interlaced image to make 3D image.