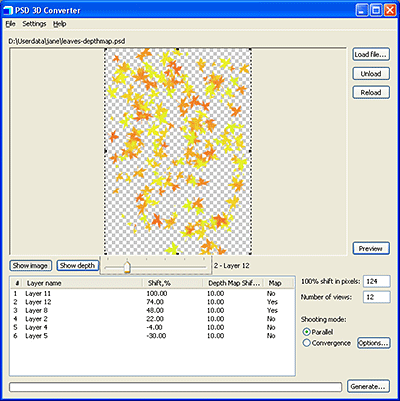 Description:
PSD 3D Converter is intended for the 2D to 3D conversion. The program converts a multilayered PSD file to several stereo viewpoints, that are used for lenticular image creating. Take layered Photoshop file to generate any number of views. Besides every layer can contain a depth map in layer mask.
PSD files are prepared in Adobe Photoshop, or Adobe Photoshop Elements, or Adobe Image Ready, where the layers are cut-out and the depth maps are drawn. PSD 3D Converter program process the ready PSD file to produce a 3D sequential series of images. PSD 3D Converter is stand-alone program, does not require Photoshop installation.
New version 2.5
In new version you can add the zoom and rotation to combine the 3D and animation effects.
Here you can see the new version features demonstration:
zoom and rotating effects,
anti-aliasing.
Version 2.0
Now this software has new useful features, like possibility to save the frames as multilayered PSD files for combination of 3D and Flip effects, and improved algorithm of frames generation. Moreover, now this software is combined with new other software. That is free MultiViewer software that could be used for frames viewing and cropping.
Input and output image file format:
Input image is PSD file in Greyscale, RGB, CMYK colour mode, output images - TIFF files in colour mode of input image.
You can choose RGBA (RGB Alpha channel) option, the program generates RGBA instead RGB (RGB with alpha channel, alpha channel is transparent). Besides you can save the lenticular views as multilayered PSD file.
Demo-version:
Demo-version 2.31 (13 MB) produces only small images for previewing.
Sample of a PSD file and a project file (2 MB)
Installation:
Unzipp and run PSD 3D Converter (x64) Setup.exe for 64-bit Windows, PSD 3D Converter (x86) Setup.exe for 32-bit Windows. Install vcredist_x64.exe for 64-bit Windows, vcredist_x86.exe for 32-bit Windows, if these libraries are not installed.
After installation the program will be located in /Program files/Stereosoft/ folder. Click Start, choose All Programs and open Stereosoft: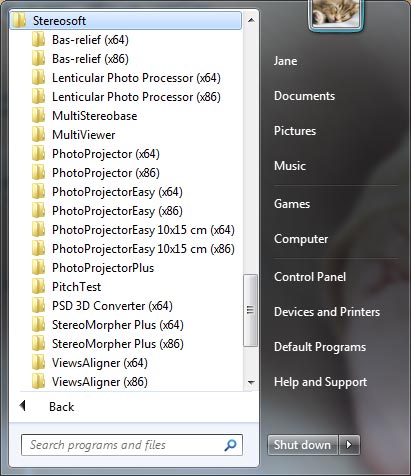 Additional programs and libraries:
Please, download and install MultiViewer module.
The program could not work without the latest software libraries from Microsoft 2010 (vcredist_x64.exe for 64-bit Windows, vcredist_x86.exe for 32-bit Windows). Please, don't forget to install them. These libraries are zipped in PSD 3D Converter archive, and you may download it here.
Manuals:
Visual Manual for the version 1.0 (9 MB)
Buying:
price: 177 €
Write to



Samples: