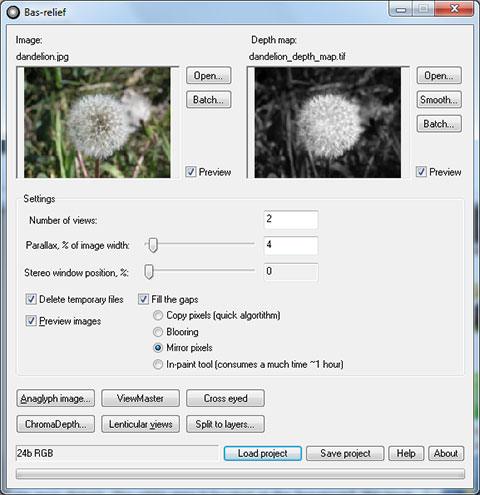 Bas-relief is intended for 2D to 3D conversion using the depth map. The application opens two images: one is a coloured flat image, the other is its depth map, which shows us what areas are closer to us, and what are more distant. The white area is located at the foreground, the black one is at the background. Thereby, the general task is the acceptable depth map creating.

Application creates the anaglyph image, ViewMaster, Cross Eyed, several viewpoints for lenticular image, ChromaDepth image (you need ChromaDepth glasses to see this images - www.chromatek.com). There is batch processing too.

The program makes the splitting to the layers using the depth map levels. This PSD file may be used in PSD 3D Converter program.

New version Bas-relief 4.0 generates the 3D images using four algorithms for the filling the gaps: copy pixels, blooring, mirror pixels, in-paint algorithm.

Tutorials "How to create the depth map": Lesson 1, 2, 3, 4...
---
Please, download and install MultiViewer module too.
---
Download the demo version 4.0 (~26 MB). Demo version makes free ChromaDepth, anaglyphical image, ViewMaster, Cross Eyed and splitting to layers. (The program could not work without the libraries from Microsoft 2010. Please, install them.)
price: 72 €
Buy via ShareIt
30 days guarantee (Visa, MasterCard)
Buy just now (Visa, MasterCard, PayPal, Check, WebMoney)