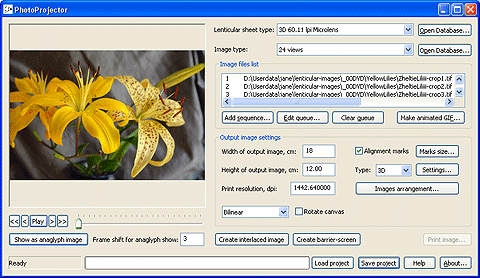 Description:
PhotoProjector creates interlaced images for lenticular sheets and barrier-screens.
PhotoProjector is designed for combined use with other graphic programs such as Adobe Photoshop, Bas-relief, ViewsAligner, StereomorpherPlus etc. PhotoProjector doesn't create the viewpoints of 3D scene or animation images. This program creates interlaced images only.
Formats of input files are BMP, PNG, TIFF, JPEG in Greyscale, RGB colour mode, TIFF in CMYK and RGBA colour mode. Formats of output files are TIFF in colour mode of source images. Don't support multilayered TIFF.
Demo-version:
Download demo version of Photoprojector (21,5 MB). Demo version process Greyscale images only.
Installation:
Unzipp and run PhotoProjector (x64) Setup.exe for 64-bit Windows, PhotoProjector (x86) Setup.exe for 32-bit Windows. Install vcredist_x64.exe for 64-bit Windows, vcredist_x86.exe for 32-bit Windows, if these libraries are not installed.
After installation the program will be located in /Program files/Stereosoft/ folder. Click Start, choose All Programs and open Stereosoft: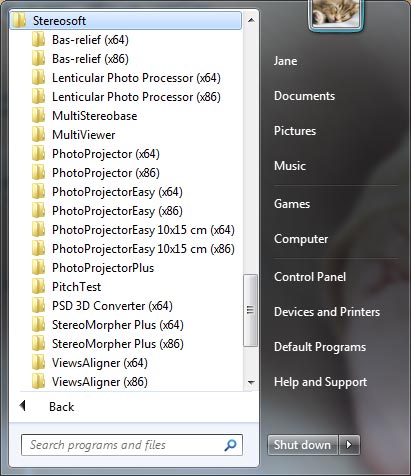 Additional programs and libraries:
Please, download and install MultiViewer module, PitchTest for the lenticular sheet testing and VisualPitchCalc for the calculation a visual pitch.
The program could not work without the latest software libraries from Microsoft 2010 (vcredist_x64.exe for 64-bit Windows, vcredist_x86.exe for 32-bit Windows). Please, don't forget to install them. These libraries are zipped in Photoprojector archive, and you may download it here.
Manuals:
Look at Help to the program PhotoProjector 3.0 ...
Visual Manual to the PhotoProjector 2.2 (Download 400 KB)
Buying:
price: 128 €
Buy via ShareIt
30 days guarantee (Visa, MasterCard)
Buy just now (Visa, MasterCard, PayPal, Check, WebMoney)