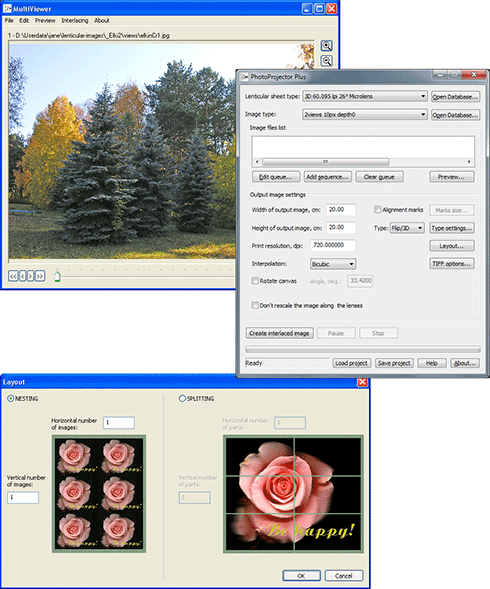 Description:
PhotoProjector Plus is almost the same program as PhotoProjector. The difference is that PhotoProjector Plus allows to create a larger images, splitting the interlaced image or nesting the several interlaced images using the mechanical pitch.
Input and output image file format:
The program process BMP, PNG, JPEG files in Greyscale, RGB,
and TIFF files in Greyscale, RGB, CMYK and RGBA,
saves TIFF files in input image's colour mode.
Do not support multilayered TIFF files.
Resulting file size limitation is 2 GB. Pixel size limitation depends on the file compression degree: the more compression, the more size. You can choose several TIFF compression - LZW, GZIP, Packpits. This compression does not worsen the image quality. For example, JPEG-compression worsens noticeably the image quality, but LZW, GZIP, Packpits do not give the observable deterioration.
1. TIFF file without compression. The biggest possible file size is 716 MPx or about 27000x27000 pixels, or 23000x31000 pixels, or 20000x35000 pixels, or 18000x39000 pixels (total number of pixels is 716 Million).
2. TIFF with LZW and Macintosh RLE (packbits) compression. This compression can give in addition about 10-15%, or 790-820 MPx image size.
3. Best result gives the GZIP (Deflate), also known as ZLIB. The file is compressed in very high degree hence the biggest image could be created, for example, 50x70 cm with 1200-1300 dpi for offset printing - 38x27 thousand pixels. Possible using this method could be created the images with even bigger sizes.
At present time all photo editing software support LZW compression. Regrettably, not all graphic software can support GZIP compression method yet, because that is a new method. But fortunately there is a tendency to support as many compression methods as possible in all most known photo editing programs. And we hope that this great method will be supported in the new versions of your favorite software. Photoshop supports GZIP compression, but Corel Draw does not support one.
Besides PhotoprojectorPlus requires much less RAM, than Photoprojector.
Each of source file must not be greater than 750 MB.
Demo-version:
Download demo version of PhotoprojectorPlus 2.0 (2,4 MB). Demo version process Greyscale images only.
Installation:
Unzipp and run PhotoProjectorPlus Setup.exe. Install vcredist_x86.exe, if these libraries are not installed.
After installation the program will be located in /Program files/Stereosoft/ folder. Click Start, choose All Programs and open Stereosoft: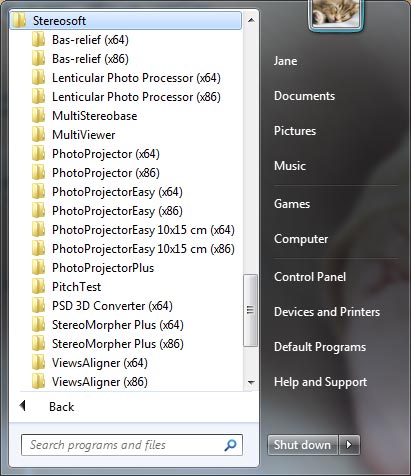 Additional programs and libraries:
Please, download and install MultiViewer module, PitchTest for the lenticular sheet testing and VisualPitchCalc for the calculation a visual pitch.
The program could not work without the latest software libraries from Microsoft 2010 (vcredist_x64.exe for 64-bit Windows, vcredist_x86.exe for 32-bit Windows). Please, don't forget to install them. These libraries are zipped in PhotoprojectorPlus archive, and you may download it here.
Manuals:
Look at Help to the program PhotoProjectorPlus 2.0 ...
Buying:
price: 212 €
Write to