How to use the program:
Print image
After interlacing the button Print image... will be enabled.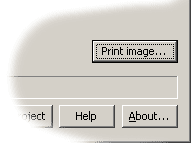 Click Print image... to open dialogue:
Image position defines the position in the sheet. Before printing click Setup printer... and choose the printer and print settings. Set the best setting for lenticular print, highest resolution. Click Print.
Value in Print resolution, dpi box must be equal to the resolution of used printer. Otherwise the software announces:

Click Cancel, set the correct value in Print resolution, dpi box and interlace the image again:

Interlaced image is saved on hard disk, and you can print it with any graphic application.